LED lamps or the creation of a "star ceiling"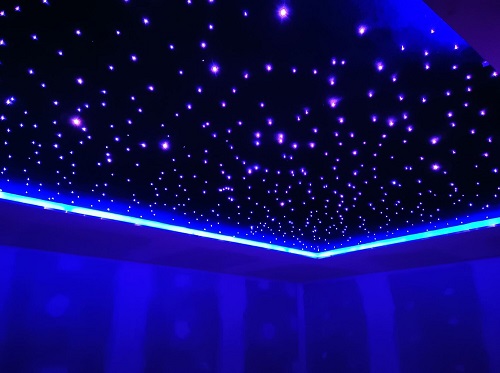 Materials and tools that will be required:
• leaf material (diameter about 8 – 10 mm). On almost every hard material, you can create the illusion of a starry sky, for example, on tiles, drywall, etc.P. Experts advise using materials on which airbrushing and acrylic paint, such as laminate, polyvinyl chloride are perfectly preserved. At the end of all work, this ceiling will be resistant to water.
• Optical fibers. There are many sets that differ in the area that they will cover, as well as the price. These sets have a number of different properties: strength, energy intensity of 10 – 50 watts per whole ceiling, moisture resistance, fire safety, electrical safety, noiselessness.
• Installation glue.
• thick paper (sheets).
• plugs, profile, suspensions for fasteners of a hinged ceiling.
• Electric cable.
• Acrylic paint.
• LED or halogen projector worth 7-11 thousand rubles., which depends on the built -in program.
• knife, drill, brush, spray gun, screwdriver.
To create a cozy atmosphere and to save eelcronergy, you can use LED lamps in a regular chandelier, while you can choose the color and intensity of light.
Installation of "Star ceiling":
1) for starters, it is necessary to mark the future fastening of the suspended ceiling.
2) screws are attached to drilled holes in the walls and carrier ceiling with screws.
3) then a frame is assembled from the profiles, which then must be connected to the suspensions. The distance between the sheets and the ceiling should be observed at least 3 cm.
4) create the basis of the "sky" – we fasten the leaf material to our design.
5) Now we will make a new output of the wiring to the projector or controller, as well as install the circuit breaker in a convenient place.
6) Next, using a drill, we make holes in sheet material (diameter of a maximum of 2 mm, about 70 pieces per 1 m2).
7) Carefully draw in the holes of the fiber and glue.
8) collect the opposite ends of the fiber and connect to the optical port of the projector.
Special effects "Star ceiling"
The halogen projector usually has a multi -colored light filter that rotates and can thus change the color, as well as the brightness of the fiber, which allows you to create different effects.
Unlike the halogen, the LED projector uses LEDs controlled by a controller to create dynamic effects, which already has a variety of programs. The controller is able to create effects such as falling meteorites, flying comets, galaxies, explosions of stars and many others.
The already finished "star ceiling" can be painted with acrylic paints, which, unlike others, are not only created on water -based, but also do not have chemical components with nasty odors. The paints dry out quite quickly, after which they form a polymer film resistant to the effects of a chemical and mechanical type.