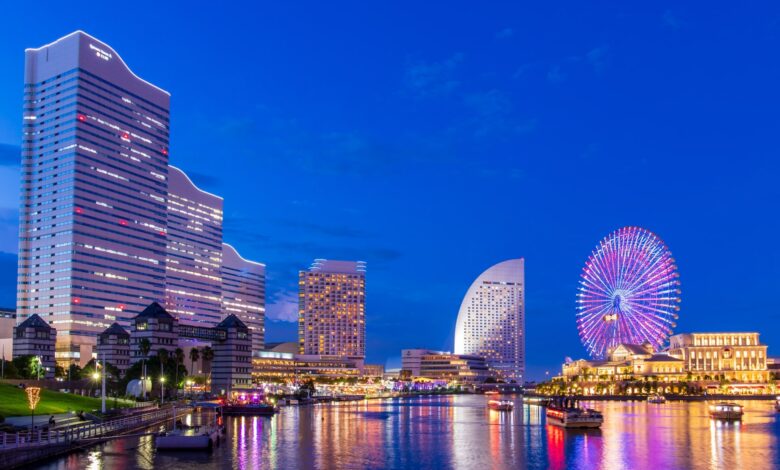 Distant Japan has become much closer thanks to the Internet. On special sites, you can reserve tickets for a plane, make profitable booking hotels, in general, completely organize a trip to the country of the rising sun. A lot of large modern cities have been built on its islands, and one of the largest is Yokohama- an impressive port of the territory, located only 30 km southwest of Tokyo, the Japanese capital.
Yokogamu is not in vain called the city of entertainment, it has numerous museums, including unusual; amusement parks; beautiful gardens; Interesting architectural monuments. It is amazing that a huge city in which more than 3.6 million people live today and which is famous for its large biotechnological enterprises, in the 19th century it was two small fishing villages. In 1858 they were united and began to build a port, as a result of which the population began to grow rapidly, and gradually the city grown to its current state.
Yokogama is primarily a port, therefore, as a rule, tourists begin to get acquainted with the city from the Yamasita port park. He stretches along the shore of the bay for a whole kilometer, there is a place for walking, interesting monuments from different countries. The park has an unusual museum, located aboard the Ocean Liner "The Queen of the Pacific Ocean", many celebrities of the past swam on this ship, and among them Charlie Chaplin. There is a lighthouse in the port of 106 meters, from its site an excellent view of the city opens.
There are several museums in the port park. Do not miss the silk museum in which you will be told about the technology of fabric production and shown ready-made canvases and silk products, many of them are old and very beautiful. Another unusual museum is dedicated to dolls: a collection has been collected here, which included almost 10 thousand copies from various countries made from a wide variety of materials. Children and adults will be happy to visit the performance of a puppet theater that works in this museum.
Of course, when examining the city, you should not be limited only to the port area. Visit the Motomati area in which it was once allowed to settle foreigners. When planning a trip, even at the stage of online booking airline tickets to Japan in Moscow, see the World Wide Web information about this quarter. They write about him as a place where you can find entertainment for every taste and where there are interesting attractions, such as a cemetery of foreigners, a trade quarter with numerous fashionable boutiques, a Ivasaki fashion museum, a tin museum of tin toys.
Yokogama is a city open to the world, in it Japanese culture is adjacent to numerous cultures of other countries. For example, in the Sankayen garden you can see a traditional Japanese layout and admire the flowering sakura. And in the nearby park "Khommoku Simin" there is a traditional Chinese garden and quite European entertainment like tennis courts and bicycle paths. Yokogam has its own Chinese quarter- the largest in the world, in it you will see beautiful temples, hundreds of restaurants and shops.
As experienced tourists say, the best entertainment in Yokogama are located in Cosmo World Park- attractions, artificial channels, American slides and a huge wheel of review, the height of which is 112.5 meters. There are several zoos in the city: free "Nogeiama", in which 830 animals live; "Zoorazia", ​​where very rare animals live- they can infrequently be found in other zoos.
There are many other interesting places in Yokogam: museum of noodles, water parks, Buddhist temples, beer town, folklore village of Dzike-Furusato-Mura and much more. It is easy to learn about them on the network, and it is better to do it in advance to organize independent excursions. It is as simple as to book airline tickets online or hotel reservation, on&NBP; sites can find all the necessary information.